Avon Gear and Engineering specializes in internal gears and internal spur gears. We custom manufacture high quality internal gears for many industries in a variety of materials and size ranges. Our quality control measures are unrivalled in the industry. All our gears are built to AGMA specifications & Avon often exceeds these standards to accommodate the intricacies of high precision gears. No specification, no detail is too complex for Avon.
Internal spur gears, also know as ring gears, have the same standards as an external spur gear except that the teeth are cut into the inside diameter while the outside is kept smooth. Internal gears can provide a compact solution that delivers large speed reductions and reduced sliding wear action and can be applied in a wide range of equipments & applications. Internal gears are widely used in light duty applications. When it's necessary to have two parallel shafts rotate in the same direction, internal gears eliminate the need for an idler gear.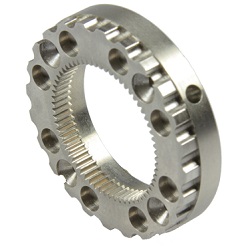 We can custom manufacture internal gears from a variety of materials that include: steel, stainless steel, heat treated steel, sintered steel, tool steel, ductile iron, gray iron, brass, bronze, copper, cast iron, aluminium, plastic & phenolic. Services include precision blanking, sawing, milling, drilling, tapping, broaching & finishing.
Applications of Internal Gears
Rollers
Electric Screwdrivers
Pumps
Positioning Equipment
Automotives
Bicycle components
Internal gears are made primarily using the gear shaping process but can also be broached. Contact Avon Gear today to learn more about our custom internal gear capabilities.