Custom Precision Cut Gears
Spur Gears, Helical Gears, Beveled Gears, Internal Gears, Worm Gears, Worms, Splines, Gear Ratchets and Sprockets
Avon Gear and Engineering specializes in the disappearing art of precision cut gears. From intricate Swiss type gears 1/16" in diameter to large industrial gears, Avon can meet all of your needs. From conventional to unconventional, common or unique, simple to complex, Avon is capable of producing nearly any gear type in most materials and sizes: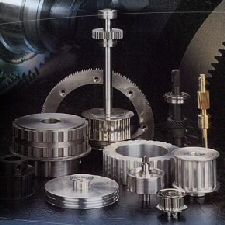 Careful, in-process inspection ensures that production is within tolerance; operators gauge their work while the work is in progress. We check and double check each job during production against our own standards, which are often even more exacting than those of our customers.
Dozens of gear cutting machines and related equipment ensure your job's prompt and accurate completion, regardless of its complexity. Because of our broad capabilities, Avon bypasses the limitations and barriers that can delay production at most other shops.
Custom designs and aircraft materials are right at home at Avon. We'll cut gears from stainless steel, brass, aluminum, plastics or whatever the job requires. From prototype to production, Avon's sophisticated machinery revolutionizes custom gear cutting.
Drawing on over fifty years in business, Avon Gear and Engineering employs the full range of skills complex jobs require. Plaese allow us to assist in designing your required gears to insure economy and accuracy.